Alecia ORSINI

President Emeritus

Massachusetts Film Office / Tax Credit Info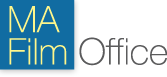 Massachusetts Film Office
The Massachusetts Production Tax Credit Incentives can be found on the Mass Film Office website, here.
The Mass Film Office includes information about additional organizations and funding on its website, here.
The Mass Film Office includes an extensive list of MA Film Festivals on its website, here.
Resources
Harvard Square Script Writers is dedicated to the idea that every great film, series, short, or stage play is born out of a compelling script.
IMAGINE Magazine, in print and online, is totally devoted to the Film, TV/Video, and New Media production industries in New England. IMAGINE connects the dots for industry participants and tells their stories. We introduced Film Tax Credits to New England in 2002 and have been publishing since 1998.
Massachusetts Production Coalition
The MPC is the industry representative to work with the legislature and Governor of MA. The passage of the film and media incentive program and its subsequent improvements have allowed for our industry to thrive. As the industry coalition, we promote the benefits of our industry and advocate for its future development. MPC is a 501 c(6) non-profit.